Our Company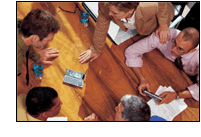 At CottonWel we understand that a key factor in the survival and growth of your business is the quality of the products you sell. We also know that going from concept of the final customer can be a long and complex process. CottonWel is out to change this concept, offering a better experience to your product development. Let us work closely with you, introducing the innovation of your processes of research, engineering and manufacture; so that you can focus in the management of your business.
CottonWel is a serious and professional company, which will give you solutions in the supply chain of the apparel industry. We are always looking for long time business and the "Satisfaction of our Clients" is our main goal as a company.

CottonWel is a leading company in the textile world, with extensive experience and recognition of the European and the North American market, which we believe and for which we manage our business strategy.
Advantages of working with CottonWel:
»

No Quota, No duty for American and European market.

»

The high quality of our Peruvian Pima and Tanguis cotton fibers.

»

We are a vertically integrated company (from fiber to the final garment).

»

Exclusive designs.

»

To working with different kind of appliqués: printing, embroidery, washing...

»

Excellent development and lead times.

»

To working with all the incoterms (Exworks, FCA, FOB, DDP...).